Sign up for our new weekly newsletter!
Still unsure? Read the first issue below:
Heyooooo! My name's Julian Reynoso, web editor of the el Don, and you're probably reading this from the bed you've been in for a while, or maybe you're at your desk, or, hopefully, in your backyard, 'cause we all need some sun these days.
el Don is run by students at Santa Ana College who are passionate about keeping our audience updated on what needs to be known, both on-campus and off. For that reason, we've introduced this weekly newsletter for everyone too busy or even too anxiety-ridden to read about what's going on. Information presented here will be written, and spoken by our staff and other news sources we find worthy for your eyes and ears. It's short, it's sweet and it's as colorful as a Jolly Rancher — we hope you savor as such.
These past few months have been a COVIDcoaster for many of us, where some are content staying inside without sunlight ever meeting their skin.. ahem.. vampires! We each just gotta find the bright side to the situation and live our lives the best we can while the world is upside down.
Are you back at work too? Stuck at home? We want to hear your story. Write it, film it or record it and send it to [email protected] — we want to publish them all.
Without further adieu, we present to you the D-brief!
TL;DR
Listen up! Our new podcast
Sick of coronavirus news? Some of us were too. Episode 3 of our weekly podcast The Distraction is live on Soundcloud, Spotify and anywhere else you use to get podcasts to your ears.
This week: all about movies.
Listen below — and don't forget to subscribe, follow, like, play it for your friends, etc. etc.
Getting your questions answered — LIVE
Every week since remote instruction began back in March, we've been live streaming our conversations with school and district officials, asking them your questions and getting you the info you need to make the best decisions about your education. This week was a doozy and we talked to 3 top administrators, including the president, the district chancellor and the vice president in charge of academic affairs.
Missed out? Watch the videos below:
A little over a month ago, Blinking Owl Distillery stayed busy bottling its signature vodka, gin and Scandinavian-style aquavit. Today, Santa Ana's only spirits producer is bottling about 4,000 gallons of hand sanitizer a week — most of which is being donated directly to medical centers across Orange County.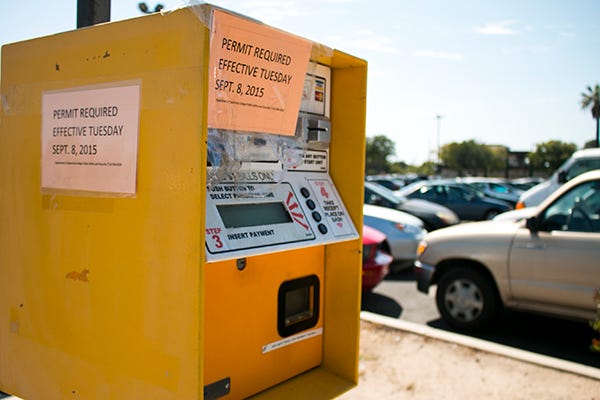 The district will refund a portion of parking fees and distribute federal stimulus grants to eligible students over the next two weeks, officials said Thursday. For a full-time student on financial aid, the total could be as much as a few hundred dollars.

There are 2636 cases of COVID-19 in Orange County as of today. The city of Santa Ana has the highest case count in the county, with 458 cases about 100 of which are from the Santa Ana City Jail. Bookmark this link and check back daily for campus and county updates.
Float on:
Back in the newsroom, el Don staffer Chris Castro is one of our veteran sports photographers, shooting soccer in the fall and baseball each spring. But without sporting events to shoot this semester, the amateur poet has been passing the time rapping over beats he finds on YouTube. He shared one of his latest, along with some original art. Press play and float away…
Around OC:

Large crowds opposing the state's coronavirus stay-at-home mandate took to the streets of downtown Huntington Beach on Friday, a day after the governor closed Orange County beaches and drew frustration and criticism from some residents and city leaders.
Protesters gathered near the Huntington Beach pier shortly before noon, with the crowd eventually swelling to some 2,500-3,000 people, according to Huntington Beach police Chief Robert Handy. The tightly packed crowd, with most people not wearing protective masks, repeatedly chanted "U.S.A." as they waited for the demonstration to begin.
Gov. Gavin Newsom said he'll be closing all Orange County beaches beginning today, yet there's still no order and only a letter on the issue as coastal cities are gearing up to file lawsuits against the state during the novel coronavirus pandemic.
Save the Dates:
We have two live streams with the district chancellor this month where we'll be asking about district funding, Zoombombing, online education and more. Watch on your preferred social media platform and get your questions answered.
Enjoying the D-brief? Share it with your fellow friends, family, pets and ghosts!